Please note that MAZ Systems is now happy to be part of Zype's suite of online video solutions, and we're currently in the process of updating our blog content. If you're a current customer in need of support for your applications, please
visit our help center
or
contact us
for assistance.
Roku is the #1 TV streaming platform in the world. Over 40 million people use Roku to stream TV and movies. That makes it a huge opportunity for video publishers to grow and monetize their channels. But the question is: How do you create a Roku channel? What factors and technology do you need? And how much will it cost?
There are many ways to make a Roku channel. At MAZ, we've developed hundreds of successful custom Roku apps for Fortune 500 brands and startups alike. We have over a decade of experience helping companies create channels for Roku. And today, we'll share everything you need to know to do it yourself.
So read through the best ways to create your own Roku channel below. Let's start with the basics:


---
What is Roku? How does it work?
Roku refers to a few different things.
First, Roku is an over-the-top (OTT for short) streaming platform. This software allows companies to stream their videos, TV shows and movies to viewers over the internet.
Next, Roku also refers to a smart TV plugin device. This box or stick allows any regular TV to access the Roku internet streaming platform. Some smart TVs come with a Roku device built in.
Lastly, Roku channels or apps are the programs that viewers can download and watch. For example, viewers can download the Netflix channel on Roku and watch all of Netflix's programs. These apps run on Roku's own coding language. To build a channel or app for Roku, you need to use the Roku coding language, or a software that is compatible with it (more on this later).
Why should you create your own Roku channel?
Simply put, there's a lot of money to be made on Roku and OTT.
The OTT market is projected to be worth over $160b in 2020. Roku makes up a huge chunk of that revenue. In 2019, 59% of all OTT ads and ad revenue were on Roku. If you want to make money with your videos, you have to be on Roku.
Most video businesses are available on all major OTT platforms. This includes Roku, AppleTV, Amazon FireTV, iOS, Android and more. But if you're just getting started and can only choose one, Roku is likely your best bet.
Three ways to create a Roku channel (without coding):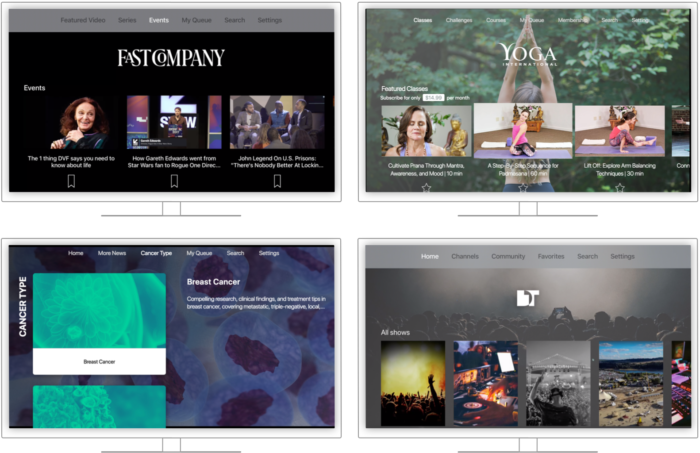 There are many tools and agencies that can help you make a custom Roku channel. To find your best fit, you need to understand your business's size, needs and budget. Here are our 3 most proven methods to make a Roku channel, based on those factors:
#1 Best overall method: MAZ
If you want fast, affordable and high quality, MAZ is your best choice.
MAZ is an easy-to-use software that helps anyone create Roku channel apps. You can create a suite of custom TV apps for every platform in as little as 1 month. Their no-code technology allows you to build world-class TV channels without spending hundreds of thousands of dollars on developers or designers. Plus, you can easily monetize your channel through ads, subscription paywalls, sponsorships and much more.
MAZ users include Fortune 500 brands like Conde Nast and Fast Company. But you can access the same technology with their self-service offering at just $1250 per month. For the development speed, ease-of-use and quality of their apps, this is by far the best pick for most companies.
To get started, schedule a demo of the MAZ platform here.
#2 Best free method: Roku Direct Publisher
Roku Direct Publisher is a free software offered by Roku. This allows you to publish a basic Roku channel for your business. The pros are obvious: This is the least expensive method and is great for scrappy entrepreneurs. But there are some drawbacks to be aware of.
First, you will need development experience. This method leaves you to figure out the technical details of your CDN, video hosting and feeds on your own. If you do not know how these work, you'll likely run into issues during setup.
Second, you'll have other costs to cover. Video hosting and CDNs can run you into the thousands per month. So while Roku Direct Publisher is free, you will still have to spend money.
Lastly, your final product will be limited. To keep Roku Direct Publisher free, customization has to be kept to a minimum. Plus, Roku takes 40% of all ad revenue that you make on their platform. Again, if you are just starting out this might not matter. But if your business is established, this may cut into your bottom line.
Get started with Roku Direct Publisher here.
#3 Best method for creative guidance: Agencies
Many agencies specialize in building Roku channels. If you don't want to do the work yourself and don't mind the price tag, agencies are an excellent resource.
Agencies work in a number of ways. Some have a team of in-house developers who will code a native app in the Roku OS. Others will lease out your project to a network of freelance developers. Lastly, some will utilize a SaaS software like MAZ to build your app for you.
Agencies have their pros and cons. Having a real team for creative direction and feedback can be helpful. Plus, their experience and expertise can come in big if you're new to Roku. But the drawbacks are just as clear. Agencies can take many months to complete projects. Not to mention, they can cost tens or even hundreds of thousands of dollars.
See a full list of official third-party Roku developers here.
So what's the right method for your business?
Of course, you're the only one who can make this decision. But here are the most important factors for you to consider:
1. Features you need
What features do you want and need for your Roku channel? Some common features include paywall metering, ad services, user profiles, playlists, custom designs, etc.
If you don't have any features in mind, Roku Direct Publisher should be sufficient. But if you want to optimize the UI for your viewers, MAZ or third-party agencies would be a better option.
2. How you want to make money
How do you plan to make money with this Roku channel? Again, you have a few options.
The two most common options are ads (AVOD) and subscriptions (SVOD). If you want to run ads, then you'll need to integrate with a Video Advertising Network (or VAN). Or for subscriptions, you'll have to include paywall and user profiles. For a full breakdown on how to make money on Roku, see our post here.
Roku Direct Publisher will help you with running basic ads (at a cost). But if you want advanced ad-serving or subscription paywalls, go with MAZ or an agency.
3. Tech & design experience
Your personal level of experience in this field is a huge factor.
Do you or someone on your team have coding experience? Can you troubleshoot issues on your own as they come up? Do you have the time to learn new skills related to Roku app development?
If the answer is yes, then you could give coding your own app or Roku Direct Publisher a go. If you're anywhere below expert level, MAZ is an accessible solution for anyone. Or if you're fully booked and need someone to do it all for you, an agency may be your best bet.
4. Schedule for launch
An important question we ask all our clients: When do you want your app to launch?
Roku Direct Publisher claims that you can complete everything in 10 minutes, but you have to complete their prerequisites first, which are the bulk of the work. If you seek a quick and dirty launch, this can be a great solution.
MAZ is one of the fastest professional go-to market solutions. You can have all of your TV channels published and ready for worldwide distribution in as little as one month.
Agencies tend to require at least 6 months or more.
5. Project budget
Finally, the most important question: How much will it cost to create a Roku channel?
Roku Direct Publisher is free. But you have to cover video hosting costs, which can run into the thousands per month. Also, they will take a large chunk of any ad revenue you make. So be careful if your budget is very low or if you plan to scale up.
The MAZ Platform has two pricing tiers. For general access, pricing starts at a flat fee of $1250 per month. MAZ does not charge extra fees or take your revenue. For enterprise level builds, pricing goes by inquiry.
Agencies are by far the most expensive method. Agencies will cost you $10,000 to $20,000 to start. More experienced agencies will easily go over $100,000, not including extra work or customizations.


---
The process to create a Roku channel can seem complicated. But if you prepare yourself with knowledge and research, you can do it on your terms. As more businesses turn to Roku as a platform, this section of the video industry will surely grow.
We hope this article has been helpful. To build your own Roku channel, get in touch with the MAZ team here. We've worked with hundreds of the world's top media brands. We know video inside and out, and love sharing our knowledge.
Best of luck and happy building!