Please note that MAZ Systems is now happy to be part of Zype's suite of online video solutions, and we're currently in the process of updating our blog content. If you're a current customer in need of support for your applications, please
visit our help center
or
contact us
for assistance.
The Quibi platform has been all over the news lately. From low user numbers to major product complaints, many are calling Quibi's streaming service's launch a fail. But what is Quibi? Does it really suck that much? Was Quibi's launch really a failure?
Here at MAZ, we've helped hundreds of video streaming businesses build custom TV apps and acquire millions of users. We've seen the ins and outs of the OTT streaming industry. Today, we'll walk you through Quibi's story, why they failed and what lessons we can all learn from it.
So let's start from the beginning:
What is Quibi? What does the name Quibi mean?
Quibi is a mobile-only, subscription streaming app that launched in April 2020. The name Quibi is short for "Quick Bites," which comes from Quibi's short-form style. Most of the shows are only between 7 to 10 minutes long.
Quibi was made with the premise that young, hip audiences want shorter content. Full shows and movies are too long for a generation that's on-the-go. That's why they launched as mobile-only, to appeal to this demographic and separate themselves from other services like Netflix or Disney Plus.
Many of Quibi's shows feature celebrities and influencers, such as Chrissy Teigen, Jennifer Lopez, Chance the Rapper, Liam Hemsworth and more.
How much does Quibi cost?
Quibi has two pricing tiers. The lower tier is $5 per month, and includes some ad interruptions. The higher tier is $8 per month and includes 0 ad interruptions.
Why is everyone talking about Quibi now?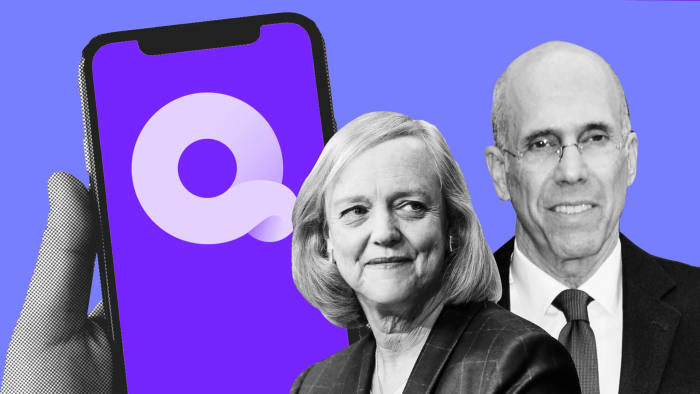 Quibi first made headlines because of its big-name backers and leadership. Between Warner Bros, Lionsgate, MGM and more investors, the streaming platform raised about $1.8 billion dollars total. Plus, the company is led by mogul and former Walt Disney Studios chairman Jeffrey Katzenberg. With these resources came big promises to shake up the TV streaming market.
Unfortunately, things didn't go as planned.
Why are people calling Quibi a failure?
Despite tons of advertising and a generous free trial, Quibi only got 1.7 million free downloads its first week. Compare that to 10 million in a day for Disney Plus, and you can see why analysts had a laugh. When asked about the slow start, Katzenberg made this excuse: "I attribute everything that has gone wrong to coronavirus."
Three months later in July as free trials are running out, some have reported that over 90% of free users are leaving without paying. A Quibi spokesperson retaliated by saying that these numbers are wrong "by an order of magnitude." But regardless of the exact figures, the writing seems to be on the wall for this struggling streaming service.
Quibi's leadership made 3 big mistakes in their launch:
Quibi Fail #1: Leaving out TV apps.
According to Netflix, about 70% of all viewing happens on the TV. TV apps are becoming a major outlet for media companies of all shapes and sizes. While competition in the mobile app space has reached a boiling point, there's still plenty of room in the TV app market to grab your audience's attention.

Users were quick to complain when Quibi launched on mobile only. "I was excited about this platform and then I read it's only to be viewed on your phone? Is this shit for real? I don't even want it for free now" said one commenter.
Quibi Fail #2: Using the wrong paywalls.
At MAZ, we offer flexible metered paywalls. These help companies adjust when they want free trials to end, maximizing the number of paying customers. A paywall has to be loose enough to give users a taste, but strict enough to make it worth a subscription.
Quibi was far too loose with their paywalls, giving users 3 full months to try the app. When each show is only 10 minutes long, you can easily burn through all the content in three months. By the end of their trials, users had no reason to subscribe.
Quibi Fail #3: Misjudging their target audience.
Quibi wants to appeal to the social media generation, but their product isn't up to the task. There are no features to like or share your favorite shows. And with more celebrities making content for YouTube and TikTok for free, why would anyone pay for a limited library of shows from Quibi?
What does Quibi offer for $5 a month that I can't see somewhere else? For most consumers, the answer is not much.
In conclusion, Quibi failed because…
To sum it all up, Quibi made a gamble and lost. They gambled on their audience, they gambled on their timing, and they gambled on their user experience. Sure, coronavirus was a stroke of bad luck. But that still doesn't excuse the sheer amount of risk that Quibi's leadership took on.
Why would they pump up so much funding without doing some proper research on their audience? Why didn't they test the product with more people and listen to their feedback in private? They should have consulted a company like MAZ, who can tell them outright that Quibi would fail without a TV app component.
Though Quibi's launch has largely been a fail, they're not dead in the water just yet. With all of their funding and expertise, they still have time to turn things around. We will be watching closely for signs of life and can't wait to see what they do to dig themselves out of this hole.
---
If you want to build your own streaming service or OTT platform, get in touch with our team at MAZ. We've launched hundreds of successful and profitable streaming apps (and can help you avoid a launch like this).