In the world of video on demand (or VOD), there are many ways to make money using an effective monetization strategy. If you're researching VOD business models, you've probably heard of acronyms like SVOD, AVOD and TVOD. But what do all these terms stand for? And more importantly, what do they mean for your business?
At MAZ (now Zype Apps Creator), we've worked with video streaming businesses for over a decade. We've helped everyone from Fortune 500 brands to startups build profitable TV and mobile apps. Most importantly, we've guided them through the monetization process and helped them find the business models that worked best for them. And that's what we're going to help you do today.
So if you're interested in learning about SVOD, AVOD and TVOD, check out our comprehensive guide to video monetization for a complete look into the nuances of video monetization.
***
How are SVOD, AVOD and TVOD related?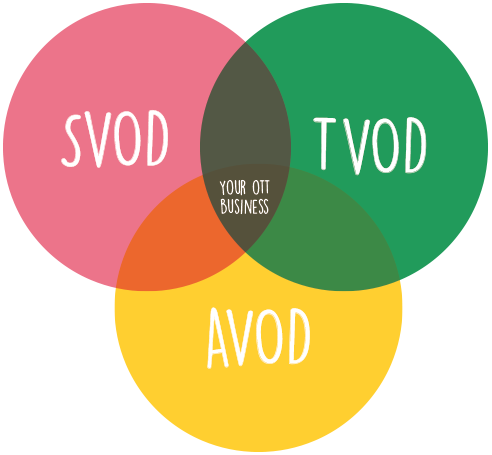 These are 3 different monetization models for Video on Demand (VOD) businesses. In other words, each one is a different way your business can make money. If you're not sure what a VOD business is, read our guide here first.
These are the 3 most common business models that you'll find in VOD. They are tried and true, and each has its own pros and cons. So let's define each one and see which one may be right for you.
What is the definition of SVOD?
SVOD stands for Subscription Video on Demand. SVOD businesses make money by charging their customers a recurring subscription fee. In exchange, subscribers get access to a full library of videos, TV and/or movies. Most SVOD businesses work on monthly or annual subscription plans, but that can vary from business to business.
The SVOD business model is the most popular model of the 3. Recurring subscriptions are an excellent way to maximize revenue from each of your customers. And for viewers, having convenient access to all of your favorite programs is a great system too.
Examples of SVOD businesses include Netflix, HBO Max, Disney+, To build your own SVOD streaming apps, get in touch with us here at Zype.
What is the definition of AVOD?
AVOD stands for Advertising-Based Video on Demand. AVOD businesses make money by selling ads on their videos, such as video commercials, display banners, sponsored content and more. Thus, they do not charge any views to viewers to access their content.
The AVOD business model is mostly associated with traditional TV (think cable and satellite). But it's been growing in popularity in recent years. AVOD services like Tubi and Pluto TV are trying to make free TV a trend once again. And with so many services like Netflix and Disney+ fighting for audiences' money, they may have a good argument.
To build your own AVOD streaming apps, get in touch with us here.
What is the definition of TVOD?
TVOD stands for Transactional Video on Demand, also known as Pay-Per-View. TVOD businesses make money by selling or renting individual videos to customers.
The TVOD business model is great for businesses looking to sell one video or a specific set of videos. For example, a movie distributor selling their latest film. Or an educational company selling a set of lessons. TVOD businesses tend to have less quantity and more quality. People are only going to buy a video that they really want, after all.
To build your own TVOD apps, get in touch with us here.
Combining SVOD, AVOD and TVOD into a hybrid.
We've already gone over the basics of each profit model here. But in reality, these systems aren't exclusive. There are many creative ways to combine or mix these models together. This is what we call a hybrid model.
Think of Hulu, for example. Hulu mixes AVOD and SVOD with their paid tiers. Some customers pay a small subscription fee (SVOD) but still see ads on their shows (AVOD). Others pay an even higher subscription fee to remove all ads (pure SVOD). Another great example is Disney+. Disney+ is mostly known as a subscription SVOD model. However, they recently released their new film Mulan as a purchase option (TVOD).
How do I find the right model for my business?
There is no tried and true method to choosing a business model. But here's what you should keep in mind.
Understand your audience: Are they likely to pay? Do they mind watching ads? How many people are there? Collect as much data as you can about your viewership. A firm understanding of your audience metrics is key to making reliable business decisions.
Set firm goals: What are your revenue goals? Would ads, subscriptions or transactions be the best way to hit those goals? Under each model, which would maximize your profits the most? How can you begin testing your assumptions? If possible, try to run some limited tests to see how real users respond.
Get the right technology solution: In any case, you will need to build your channels with the right technology. Many tech partners limit you to one monetization model, forcing you to choose right from the beginning. That's why we recommend Zype Apps Creator as the best way to build streaming apps. With Zype, you have the option to choose between AVOD, SVOD and TVOD. You have extreme flexibility in how you structure your apps and can change them at any moment.
***
Making money in video can be tough. But if you study and understand the basic principles, you've already got a huge leg up. Terms like SVOD, AVOD and TVOD can sound complicated at first. But as you get further into the business, they become second nature.
We hope you found this Zype guide useful. With over a decade of experience building TV streaming apps and mobile apps for our video clients, we love sharing our knowledge. Whether you're an enterprise business looking for a great tech partner or a startup looking to grow, we would love to help. Get in touch with our team here to see how we can help you make more money in video.
MAZ is now Zype Apps Creator. Read more here about Zype's acquisition of MAZ and why it will change the game for video publishers.